Regional Patrols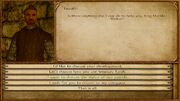 Once you have gained a fief, if you then hire a captain of the guard, he or she will give you the option to hire patrols to protect that fief from bandits and other enemies.
Options for patrol size and experience are also given and come with corresponding weekly costs with a line item appearing in your weekly budget.  You may specify a weekly allotment to the budget of this particular fief to offset such costs.
Ad blocker interference detected!
Wikia is a free-to-use site that makes money from advertising. We have a modified experience for viewers using ad blockers

Wikia is not accessible if you've made further modifications. Remove the custom ad blocker rule(s) and the page will load as expected.