Deployment Phase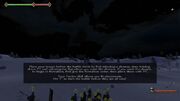 Deployement Phase, or Pre-battle deployement, allows player to position his troops before the actual start of the battle. If player decides to "Take the field" or "Plan your battle", the game freezes in the beggining of combat. Player can then position his troops and give them orders via the command buttons. Number of placements player can use is decided by his Tactics skill.
Positioning
In the deployement phase, choose a unit (archers, infanry, etc.) and then hold the F1 key. Aim the flag (which appears in the centre of your screen) on the place where you want to position your troops and then release the button. If you want your troops to form some formation, give them the orders before you position them. That way, you can create complex formations. When you are finished with positioning, press F and the battle starts.
Ad blocker interference detected!
Wikia is a free-to-use site that makes money from advertising. We have a modified experience for viewers using ad blockers

Wikia is not accessible if you've made further modifications. Remove the custom ad blocker rule(s) and the page will load as expected.